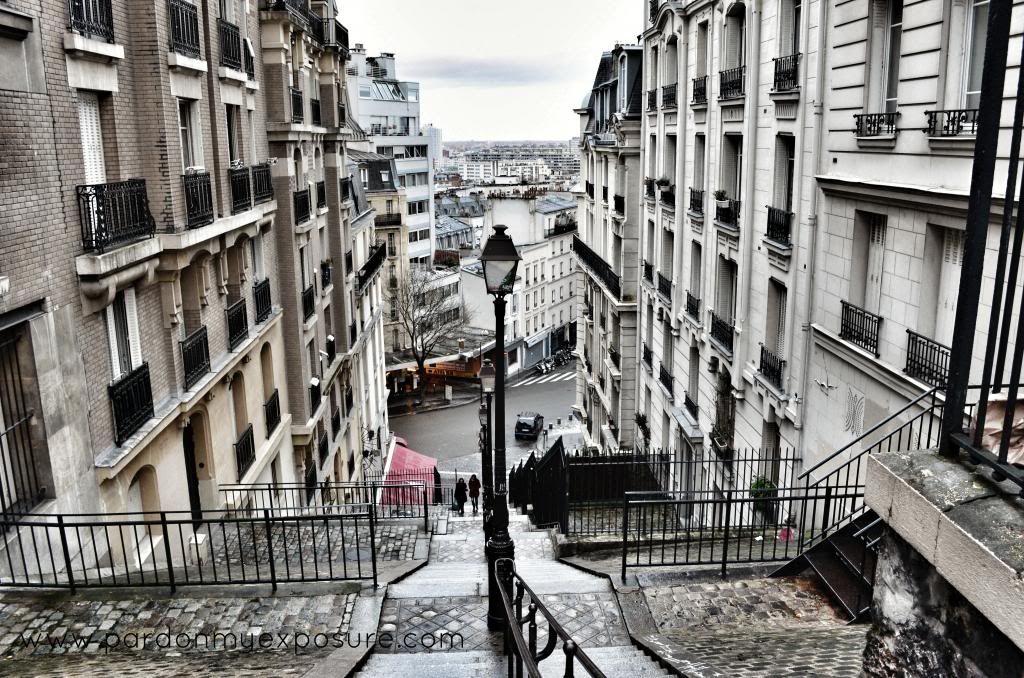 So, why Paris?
This is probably the most frequently asked question that I get from French people and curious individuals back home. It's pretty easy to answer, but I find myself forgetting half the time and just responding with something short like "J'adore Paris et voila!", which is very true, but I'm probably the ten-millionth American to say that same exact thing. So after 2-years of the same vague answer, I'm ready to tell you the real reason why I decided to make Paris home.
SO WHAT SPARKED YOUR MOVE TO PARIS? HOW DID IT ALL BEGIN?
It all started on my first trip to Europe in 2007 when I had the opportunity to visit Paris over the Christmas Holiday.
During this time, so many of my college classmates were doing study abroad programs, but I never took advantage of them, so when a friend of mine proposed a vacation in Europe I didn't want to pass up the chance to go. It was my first holiday away from home, but I was super excited. I was a bit nervous and didn't really know what to expect, but I anticipated a lot of time at the Eiffel tower, a visit to the Louvre, a tour inside the Notre Dame Cathedral and of course endless amounts of amazing pastries. However, I was in for a surprise. Paris was much more than that… in my eyes, I saw a very modern city, with beautiful old architecture all mixed into a sophisticated atmosphere with fascinating people everywhere! Everywhere I turned, something beautiful caught my eye and I found myself wanting exposure to so much more than the little I had witnessed. I told my friend, once we left that I could see myself living there one day and of course she didn't believe me, but who knows that was probably all the motivation I needed to get the ball rolling.
AT WHAT POINT DID YOU DECIDE TO MOVE?
Pretty much after returning from my trip I was so inspired to shape my life around living abroad in Paris. I wanted to live like a true Parisian, even if that meant waiting
until I finished college 4-years later.
WAS YOUR DECISION EASY?
Yes. I like to think of myself as free-spirited and open to facing the unknown, so once I had made up in my mind that I was going that was pretty much it. Of course, there were some bumps along the way that made me second guess my choice, but with all of the positive encouragement I received from friends and family, it helped reassure me that I was headed down the right path.
WHAT TYPE OF CHALLENGES DID YOU FACE PRIOR TO YOUR MOVE?
The biggest challenge for me was the language barrier. I didn't speak a lick of French or know a soul in France, so as you can imagine that made the entire process 100 times harder. I also had significant difficulty with finding accurate and up to date information (in English) on the internet about required documents for visas, apartments, schools, etc. which became very annoying and discouraging at times. I was a bit naive and expected instructions to be readily found, but it was probably the furthest thing from that. However, with both of these challenges, I found that reading blogs about other expats who have gone through similar experiences, whether they be in France or anywhere else in the world, very encouraging. It brought me back to the reality of anything is possible if you really want it.
WHEN DID YOUR JOURNEY IN PARIS FINALLY START?
My adventure began in October 2011.
WAS IT HARD TO ADJUST AFTER YOU ARRIVED?
To be honest, it wasn't all champagne and roses. I had good days mainly, but at times I was so frustrated with the language. Basic essentials that I needed like a French bank card and a cell phone were extremely nerve-wrecking and difficult to obtain. I couldn't openly communicate with people how I wanted. If I had a question, I had memorize the phrase in French and cross my fingers that they understood my accent. And please don't let them ask me a question, because it was basically downhill from there. But, I am forever grateful for the help that I did receive along the way. It was literally a lifesaver for me.
WHEN DID YOU START PARDON MY EXPOSURE AND WHAT IS YOUR MOTIVATION BEHIND IT?
During my first trip back to states after living in Paris for 9 months, I received a ton of questions from friends and family who wanted to know what's new in my life, and I ended up giving the same update about 30 times. So when I arrived back in Paris I decided to start a blog. I was motivated to share parts of my life and information with others, and also inspire someone else to follow their dreams. I feel very lucky and excited to share my story with you all.
Has anybody else ever made a life changing decision to pack up and move to another country? If so, I would love to hear from you.
Please check back soon as I will be covering Part 2 - Moving to Paris - Let's Get Started, with information and helpful tips on how you can start your move.
A bientôt!